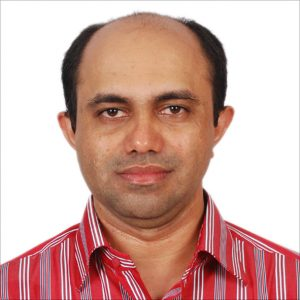 Professor,Chemical Engineering
2009 to present: Associate Professor ( to check the academic title diff from iitm webpage and irins)
Electrocatalysis
Fuel cells
Wastewater treatment
CO2 reduction
Selected Journal Publications
Parakh, A; Vaidya, M; Kumar, N; Chetty, R; Murty, B S: Effect of crystal structure and grain size on corrosion properties of AlCoCrFeNi high entropy alloy. Journal of Alloys and Compounds, 863 , 2021, ISSN: 09258388. (Type: Journal Article | Links | BibTeX)
Keerthiga, G; Chetty, R: Electrochemical Reduction of CO2 on Flame Annealed Cu. ChemistrySelect, 6 (12), pp. 2887-2892, 2021, ISSN: 23656549. (Type: Journal Article | Links | BibTeX)
Abraham, B G; Chetty, R: Design and fabrication of a quick-fit architecture air breathing direct methanol fuel cell. International Journal of Hydrogen Energy, 46 (9), pp. 6845-6856, 2021, ISSN: 03603199. (Type: Journal Article | Links | BibTeX)
Abraham, B G; Chetty, R: Influence of electrodeposition techniques and parameters towards the deposition of Pt electrocatalysts for methanol oxidation. Journal of Applied Electrochemistry, 51 (3), pp. 503-520, 2021, ISSN: 0021891X. (Type: Journal Article | Links | BibTeX)
Abraham, B G; Chetty, R: Design and fabrication of a quick-fit architecture air breathing direct methanol fuel cell. International Journal of Hydrogen Energy, 46 (9), pp. 6845-6856, 2021, ISSN: 03603199. (Type: Journal Article | Links | BibTeX)
Polymer Electrolyte Membrane Fuel Cells

Shape Controlled Electrocatalysts
Alternative Catalyst Support

Conversion of CO2 to Fuels
Wastewater Treatment

Electrochemical Reduction of Nitrate
Photocatalytic Degradation
Apparatus For Dual Phase Chromium Removal And Energy Recovery And Methods Thereof Chetty Prof. Raghuram,In |* M Nambi Prof. Indumathi,In | Sriram Saranya,In Patent No. Wo2019003248a1 Published Filed 2018-06-27 Published 2019-01-03
Rsa17p0010 Apparatus For Removal Of Metals From Wastewater And Method Thereof Chetty Prof.Raghuram,In | *M Nambi Prof.Indumathi,In | Sriram Saranya,In Patent No. Wo2018235106a1 Published Filed 2018-06-23 Published 2018-12-27
A Method Of Preparing Palladium Dendrites On Carbon Based Substrates Raghuram Chetty,In | Kranthi Kumar Maniam,In Patent No. Wo2014033756a3 Published Filed 2013-08-28 Published 2014-06-1
A Method Of Preparing Palladium Dendrites On Carbon Nanotubes Maniam Kranthi Kumar | Chetty Raghuram Indian Institute Of Echnology Madras ( Indian Institute Of Technology Madras) Patent No. In306280b Completed Filed 2012-11-19 Published 2019-02-01
Redox Electrolytic Fuel Cell For Desalination Coupled Wastewater Treatment Chetty Raghuram | Sriram Saranya | Abraham Bincy George Indian Institute Of Technology Madras Patent No. In201841004785a Completed Filed 2018-02-08 Published 2019-08-09
A Method Of Preparing Palladium Dendrites Chetty Raghuram | Maniam Kranthi Kumar Indian Institute Of Technology Madras Patent No. In201203632i4 Completed Filed 2012-09-03 Published 2016-04-15
2017 – Bhagyalakshmi & Krishna Ayengar Award For having guided best M.Tech, project titled "Palladium Dendrites as Catalyst for Portable Air Breathing Formic Acid Fuel Cells"
Awarded Raman Fellowship under Singh-Obama 21st Century Knowledge
Initiative Indo-US programme sponsored by University Grant Commission (UGC) to visit Michigan State University, Chemical Engineering and Materials Science Department from Sep 2013 to Sep 2014.
Received Bhagyalakshmi & Krishna Ayengar Award on IIT Madras Institute Day (April 9, 2013) for having Guided Best M.Tech Project.
Received Top Cited Article Certificate from Elsevier for the paper entitled "PtRu nanoparticles supported on nitrogen-doped multiwalled carbon nanotubes as catalyst for methanol electrooxidation" published (during 2009-2010) in Electrochimica Acta.
Invited participant for "Indo-German Frontiers of Engineering (INDOGFOE) Symposium" an interdisciplinary, binational conferences co-organized by the Indian Department of Science and Technology (DST) and the Alexander von Humboldt Foundation, in Merseburg, Germany, June 13 -16, 2012.
Invited participant for Indo-US Science Technology Forum sponsored workshop on "Emerging Issues in Energy and Environment Security: Challenges and Research Opportunities" organized by Department of Chemical Engineering, Indian Institute of Technology Delhi, New Delhi. Dec 12-15, 2010.
Invited participant for Indo-UK "Fuel Cells Initiative Scoping Workshop" organized by the Department of Science and Technology (DST), India and Engineering and Physical Sciences Research Council (EPSRC) UK, in Chennai, September 15-17, 2010.
Received Messel Travel Bursary from Society of Chemical Industry (SCI) for attending the 'Fuel Cells Science and Technology' conference in Copenhagen, Denmark, October 2008.